Oil Change near Me

Hey there, New Jersey drivers—have you been Googling "oil change near me?" Just a lucky guess, but if you've been on the hunt for a service center near Tinton Falls, Middletown Township, and Long Branch, then you've come to the right place. Welcome to World Subaru, otherwise known as your source in the area for all of your maintenance and shopping needs.
Need a tune up? We've got you, alongside several service specials you're bound to love. Read on for more information.
How Often Do You Need an Oil Change?
Signs You Need an Oil Change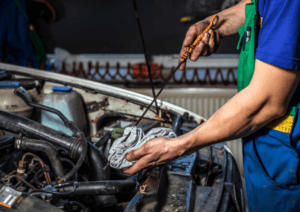 So, you might be asking yourself: what are the signs I need an oil change? What it really comes down to is following your maintenance schedule, but if you'd rather look for giveaways in the behavior of your car, you can find it there, too.
Some go-to signs that you're in need of a change are things like an oil smell in the cabin, strong and distinct; likewise, you might hear a knocking sound in the engine, a key sign that it's no longer properly lubricated; finally, you could see heavy exhaust from your tailpipe.
When and if any of these occur, it's a good idea to swing by our service center to get it fixed up.
Steps in the Process
When you arrive at our service center for your appointment, our technicians will gladly walk you through the oil change process. What will it look like, though?
It starts with popping your vehicle's hood, removing the oil cap, and draining the old oil. This will be evidenced by its dark and dirty color, which is totally different from the new oil-clear amber, for comparison.
When the oil is out, the filter is removed as well. Then, the oil is replaced, alongside a new filter, the cap put back, and a system test run. The whole process shouldn't take more than 30-45 minutes.
A Service Center for You
We don't just do oil changes! If you need other services, our team can handle that, as well. Swing by our center for maintenance specials, deals on replacement parts, and so on. You need it, we've got it-just let us know what you're looking for.
Some of the services we can conduct includes:
Battery tests
Tire pressure checks and rotations
Inspections
Schedule a Service Appointment Today
How's that for answering your most pressing questions? No more searching up, "oil change near me," when we've got all the answers you need right here. Drivers looking for service should get in touch with our team at World Subaru. They'll take care of all your maintenance requirements in and around Tinton Falls, Middletown Township, and Long Branch, NJ.
Contact us, visit our website, or come see us in person to set up a service appointment today!