Tire Replacement near Me

When your car needs a fresh new set of tires, turn to the experts at World Subaru. We proudly complete tire replacements for drivers near Tinton Falls, Middletown Township, and Long Branch, NJ, so that they enjoy a stable and steady drive each day.
Read on to discover how easy it is to schedule this appointment and order a new tire set. Contact us with any questions about this important maintenance!
How to Schedule Tire Replacement
When you need to schedule a tire replacement, give us a call or use our convenient online form. On the form, feel free to leave a comment that you're looking for this service.As you scroll through our list of maintenance needs, you'll see some other tire-related ones, like rotations. After you get your new set installed, we can make sure the tires get rotated regularly.
When you schedule, check out our current service specials. We just might be featuring tire maintenance at the time of your appointment!
Order New Tires Online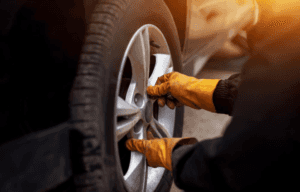 If you'd like to 
order a new tire set
, you can do so through our website. Try out the tire finder tool to browse by your specific make and model or by the tire size.From there, scroll through the variety of tire brands to see which one you'd like for your car. Once you land on a set that works, schedule the installation. You can even add a wheel alignment to really make sure they're ready to roll!
Not sure which ones to choose? Swing by our on-site tire center to see the options up close. Here, you can talk with our experts about which one they'd recommend.
How Long Do Tires Last?
It's important to know how long tires last so that you can anticipate their replacement. While the exact timeframe will differ from driver to driver, you can expect them to last anywhere from three to six years.
These tires will get more life with the help of routine maintenance. The aforementioned tire rotations, for example, help them wear more evenly. Proper tire pressure is also essential, and we can make sure it's at the right level.
Tire rotations, tread depth inspections, and pressure checks are all offered through Subaru Express Service, which doesn't require an appointment. You can simply come by the day of and request these quick needs!
Schedule Tire Replacement near Me!
If you're looking for a place to schedule tire replacement near Tinton Falls, Middletown Township, and Long Branch, New Jersey, consider a stop at our service center. We offer comprehensive tire maintenance to keep them in shape for many years. Contact us today to schedule an appointment at World Subaru!